MyBandTheme comes with full integration of the most popular social media networks.
Social media is one of the biggest online trends nowadays. Everyone is on Facebook, everyone is Tweeting, or uploading videos to YouTube. MyBandTheme utilizes the power of social websites in a number of ways, resulting in more word-of-mouth marketing for you and your music.
Facebook "Share" and "Like" buttons, Twitter "Tweet" buttons, as well as Google +1 buttons are added to every page of your new website automatically, making it is for your content to go viral. Your visitors will be sharing your content with their friends as soon as your website goes live, bringing even more visitors to your site.
Additionally, if you or your band has accounts on popular social networks, for example YouTube, Myspace, iTunes, or any of the 13 supported networks, a link will be displayed to your account on your site's top navigation bar. This will make it easy for your visitors to check out your profile pages on social network sites as well.
Here is a complete list of the social networks supported by the MyBandTheme template at present: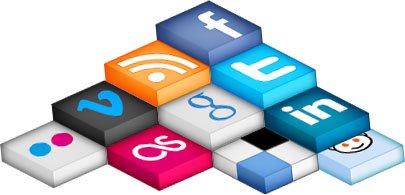 This is an ever growing list, so if you have an online presence on any other network, send it to us and we'll integrate it into the theme.